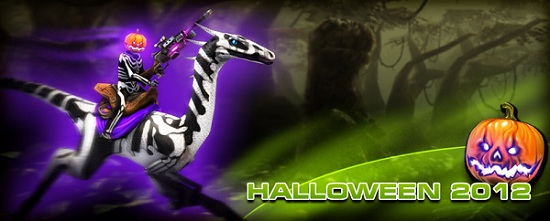 Halloween 2012 is the very first Event of Dino Storm. It began on October 29 at 16:00 UTC+2 and ends on November 4 at 23:59 UCT+2. Lasting about 5 and a half days.
The prizes that include are three Skeleton Dino Art Skins, a Pumpkin Head hats, a Skeleton Shirt and Trousers, and a new Title 'Ghost Buster'. All these prizes are earned by doing the Halloween quests and completing the Halloween 2012 Achievements. Many extras are accessed and bought by visiting the Dino Art Store, Footwear & Trousers Store, Hats Store, and Shirts & Jackets Store with Gold Coins.
Given QuestsEdit
Ad blocker interference detected!
Wikia is a free-to-use site that makes money from advertising. We have a modified experience for viewers using ad blockers

Wikia is not accessible if you've made further modifications. Remove the custom ad blocker rule(s) and the page will load as expected.